Information about the company
Davlekanovsky plant of oil engineering is in Davlekanovo, located in the central part of Bashkortostan, 90 km from the city of Ufa.
History of the plant begins with the creation in 1929 the MTS. In 1939 on the base of MTS has organized a workshop for repair of tractors and agricultural machines. In 40-ies established foundry site in the 50s workshop began to produce and industrial products.
Production was expanded and in 1960 a workshop was renamed Mechanical Plant. The factory began to specialize in the production of boilers, pumps and other equipment for farms and cattle-breeding complexes.
In 1972 new areas were built housing of automotive production, the plant was renamed autorepair. Experienced mechanical plant personnel quickly learned Workshop production, and the plant reached its design capacity of the vehicle and engine major overhaul while maintaining the range and volume of industrial output.
In 2005, on the basis of the former car repair factory belonging to the state, was organized and redesigned in product manufacturing plant for the oil industry, JSC "Neftemash"
The emerging industrial base includes shops, located on an area of ??more than 6 hectares. The area of ??industrial premises, excluding storage is more than 25 thousand meters.
The plant has rail access, the length of 514 m, with access to the Kuibyshev Railway, equipped with their loading and unloading areas, and two gantry cranes.
JSC "Neftemash" has certificates of conformity of the Customs Union, and the resolution Rosstandart rostekhnadzor for manufactured products. Quality management system, which, according to the Certificate of Conformity №SDS.TP.SM.04398-14 meets the requirements of GOST R ISO 9001-2011 (ISO 9001: 2011).
Open Joint Stock Company "Davlekanovsky plant of oil engineering" - a member of the Chamber of Commerce of the Republic of Bashkortostan.
JSC "Neftemash" carries out all complex of works on designing, manufacturing, supplying and commissioning as well as servicing the oil and gas equipment:
direct heating stoves and heaters with an intermediate coolant in the gas and oil-fired PP 0.63 types; PP-1.6; PPT-0.2; PTB-5; PTB-10; PAR-3; PBT 1.6M; PT-4-64;
type heaters travel PNPT -3.87; PNPT-1,6; PNPT-0.63; PNA-1.9; PT-16/150; PT-25/100, PT-6.3 / 200;
heaters estuarine type VH-0,2M3 (F); NUS-0.1, furnaces type "P" and "H": P-101/2; H-402;
oil treatment plant; UPPN-250M; UPPN-500M; UPPN-1000M;
flare systems such as FMS;
installations of heating steam transportable type PKN;
batching plants BR type reagent, BDR, UDH, UDE, MAC;
liquid fuel preparation blocks BPZhT;
explosion-proof devices elektroispolnitelnyh regulatory Huerva-1M.
We carry out deliveries of components and spare parts for the equipment produced, as well as similar equipment from other manufacturers:
burners glow to the stoves and heaters;
dual fuel burners;
coils to the stoves and heaters;
insulated cabinets;
igniters.
Performs the following tasks:
design;
modernization of obsolete equipment, automation systems, gas piping made by other manufacturers;
We carry out transfer of equipment from liquid fuel to gas and vice versa.
The main consumers of the products of JSC "Neftemash" are:
JSC "ANK" Bashneft ";
OJSC "Tatneft";
OAO "LUKOIL";
"Gazprom Neft";
OJSC "TNK-BP Holding";
OJSC "NGK" Slavneft ";
OJSC "NK" Rosneft ";
JSC "PetroKazakhstan Kumkol Resources" (Kyzylorda, Kazakhstan);
LLP «SK KazStroiService» (Aktau, Kazakhstan);
LLP "AUT JSC" TrestSredazenergomaontazh "(Almaty, Kazakhstan);
SOCAR management logistics software "Azneft";
JSC "UMG" (Zhanaozen, Kazakhstan);
«PETROMARUZ OVERSEAS LLP» (Uzbekistan);
OJSC "Ukrnafta" (Ukraine) and others.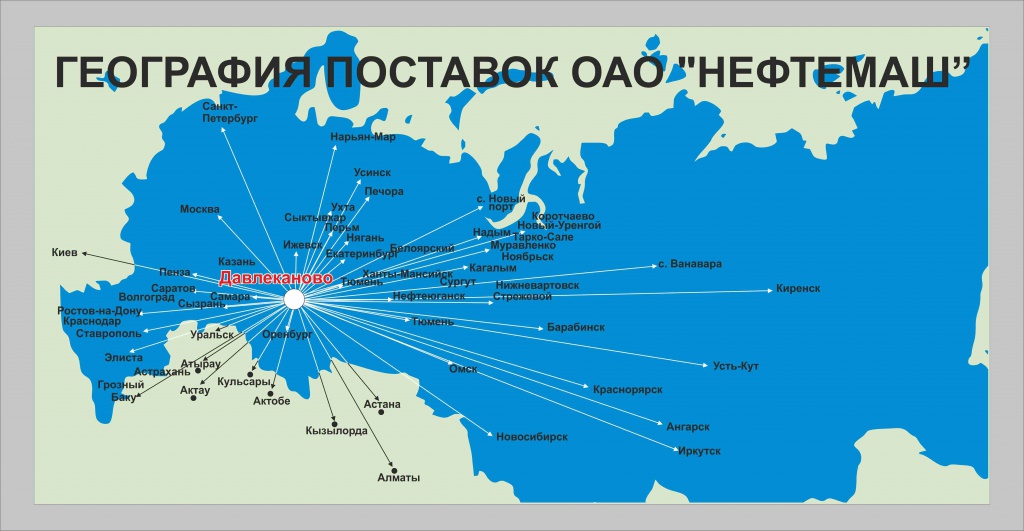 We invite you to cooperate!