COMBINED GAS-LIQUID BURNING DEVICE PP-0.63AMZhG.01.00.000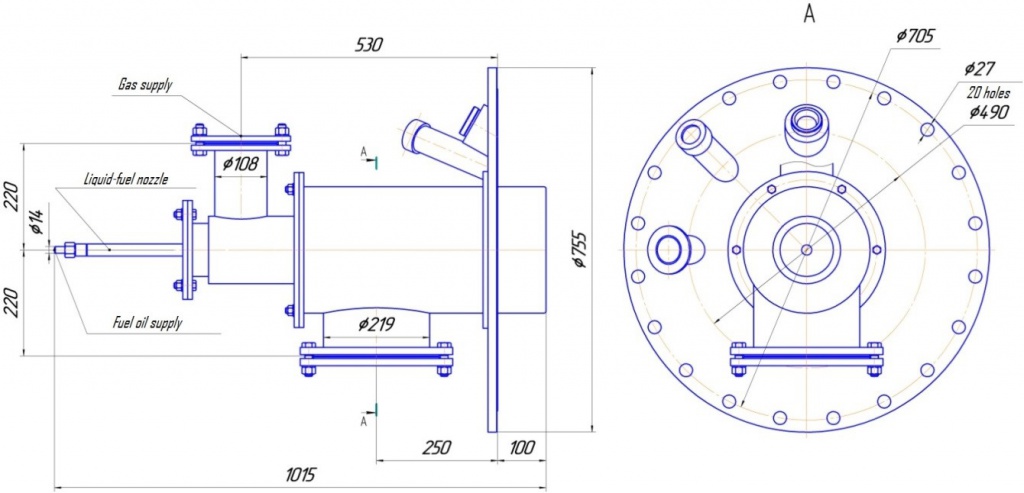 Combined gas-liquid burning device PP-0.63AMZhG.01.00.000 general drawing.
GENERAL DATA
The device designed for flaring of natural or associated oil gas and liquid fuel by GOST 5542 in line heaters such as PP-1.6, PP-0.63 and its modifications.
features
Operation conditions should correspond to UHL by GOST 15150-69.
Placement category – 1 by GOST15150-69.
Certified as heater component.
COMMON SPECIFICATIONS
№ п/п

Parameter

Value

1

Heating capacity, MW (Gcal/hr).

1.16 (1.0)

2

Gas flowrate at normal conditions, nm3/hr., max

117

3

Fuel oil consumption, kg/hr., within

50…100

4

Pressure, kPa (kgf/cm2):

- oil;

- rated, gas before burner;

- rated, air.

4000 (40000)

30 (3000)

3 (300)

5

Air excess ratio

1.05

6

Operating adjustment factor, min

4

7

Mass, kg, max.

115